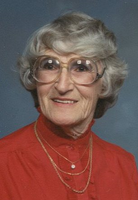 Esther L. Snyder
MEDUSA – Esther L. Snyder, 95, passed away peacefully at home on Sunday December 17, 2017 surrounded by her loving family. Esther was born on August 5, 1922 in Rensselaerville to the late James and Eleanor Mae Mercer Sanford. She was the Valedictorian of Greenville Central School, Class of 1939. She was also a member of the yearbook committee, having been a part in publishing the very first yearbook at GCS. Esther worked for NYS before she married, and then she became a full-time homemaker. She was a member of the Preston Hollow Baptist Church for over 80 years, where she served as a Sunday school teacher and a deaconess. She was a member of the auxiliary for the Rensselaerville American Legion and was a past member of the Rensselaerville Senior Citizens. Esther was an amazing baker and cook. In addition to her parents, she was predeceased by her husband, Donald C. Snyder in 2013, her son, Donald C. Snyder, Jr. in 2014, and her sister, Evelyn Van Voorhis in 2009.
Esther is survived by her children, Thomas (Ruth) Snyder and Carol (Mark) Chase; her grandchildren, Rebecca (Justin) Case, Leslie (Duane) Thorington, Lisa Snyder, Jennifer (Michael) Duncan, Melissa (Bruce) Baker, Paul Snyder, and Thomas (Michelle) Snyder; her great-grandchildren, Bronson Hulbert, Shauna Thorington, Cody Duncan, Cameron Strang, Morgan Snyder, Emily Duncan, Hannah Case, Justin Case, and Derek Snyder; her brother, Carl (Marie) Sanford; and many nieces and nephews.
Calling hours will be held on Wednesday December 20, from 4 to 7pm at the A.J. Cunningham Funeral Home, 4898 State Route 81, Greenville. A funeral service will be held on Thursday December 21, at 1pm at the Preston Hollow Baptist Church, State Route 145, Preston Hollow, followed by burial in the Medusa Cemetery. In lieu of flowers, donations can be made to either the Preston Hollow Baptist Church, P.O. Box 597, Preston Hollow, NY 12469, or to the Community Hospice of Greene County, 47 Liberty Street, Catskill, NY 12414. Condolences can be posted at ajcunninghamfh.com.