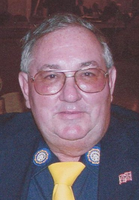 Albert "Al" Bates
MEDUSA – Albert "Al" Bates, 71, passed away on Friday, December 15, 2017 at Albany Medical Center Hospital. Born in Coxsackie on January 23, 1946, he was son of the late Sumner and Ethelyn Roney Bates. Al was raised in Medusa and graduated from Greenville Central School. He was a proud Air Force veteran of the Vietnam era. Al was employed as Marketing and Operations Manager at North American Phillips in Saugerties, and was employed by Just-a-Buck for 16 years, retiring in August of 2007. He was a member and past commander of Greenville American Legion Post 291, past county commander and current chaplain of the Third District of the American Legion for Greene County, and past chief of the Medusa Volunteer Fire Company. Al loved sports in his younger years, was a fan of the New York Yankees, and enjoyed bowling, golf, trap shooting, woodworking, and cooking, always wanting to be the best at what he did. Al cooked many meals at the Greenville American Legion, and the newly remodeled kitchen will be dedicated the "Bates Kitchen" in his memory.
Al is survived by his wife, Carole Waldron Bates; son, Kevin Bates and his wife DeEtte; cousins, Allen Roney and Mary Pitt; brother-in-law, John Waldron; niece, Joy O'Brien; nephews, Glenn and Neil Waldron; lifelong friend, Frank Miller.
Calling hours will be on Monday December 18th from 4 to 8 p.m. at A.J. Cunningham Funeral Home, 4898 State Route 81, Greenville. American Legion service will be conducted at 7 p.m., and Medusa Volunteer Fire Company will conduct a service at 7:30 p.m. The funeral will be Tuesday December 19th at 11 a.m. at the funeral home, followed by burial with military honors in Medusa Cemetery. In lieu of flowers, memorial donations to Greenville American Legion Post 291, P.O. Box 132, Greenville, NY 12083, or to the charity of one's choice, will be appreciated. Condolences may be expressed at ajcunninghamfh.com.