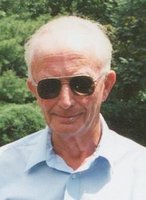 Orrin C. Blakeslee
PRESTON HOLLOW – Orrin C. "Junior" Blakeslee, Jr., 86, passed away on Wednesday, December 13, 2017 after a short battle with cancer. He was born on July 4, 1931 in Durham to the late Orrin C. and Gladys Cleveland Blakeslee. He attended Durham School until the 8th grade. He worked for the Town of Durham full time for many years, and then after he retired, he worked part time for the town until 2016. He was also a farmer for many years. Junior enjoyed hunting and fishing. In addition to his parents, he was predeceased by his wife of 35 years, Thelma Roe Blakeslee, on November 16, 1986.
Junior is survived by his daughter, Mary Ann Hichens of Gloversville; his grandchildren, Eric (Tammy), Felicia, and Chad Jackson of Gloversville; his great-grandson, Derek Jackson of Gloversville; his brother, Edward (Donna) Blakeslee of Potter Hollow; his long-time companion, Elsie Ricci of East Durham; his two nieces, one nephew, and seven great nieces and nephews.
Calling hours will be held on Saturday, December 30, from 11am to 1pm at the A. J. Cunningham Funeral Home, 4898 State Route 81, Greenville, followed by a memorial service at 1pm. His ashes will then be interred in the Potter Hollow Cemetery following the service. In lieu of flowers, donations can be made to the American Cancer Society, 1 Penny Lane, Latham, NY 12110. Condolences can be posted at ajcunninghamfh.com.