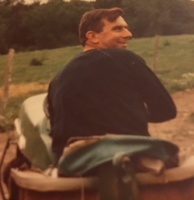 William Herbert "Bill" Proudman
CONESVILLE – William H. Proudman, Jr., 84, passed away peacefully on Tuesday December 5, 2017 with his family by his side. He was born on March 4, 1933 in Conesville, on the family farm, to the late William H. Sr. and Florence Sutton Proudman. He graduated from Gilboa-Conesville School in 1950. He was a life long dairy farmer and was also a school bus driver. He was a dedicated public servant in Conesville; having served as the Town Assessor for 14 years, the Town Justice for 4 years, on the Town Council for 4 years, the Town Supervisor for 6 years, and was a Republican Committeeman. He was known for being a man of integrity and for also being a patient man. Bill lived on the family farm and raised his children in the same house he was born in. He was active in the Conesville Fire Department, having served as the fire commissioner, and in the Conesville Rescue Squad. Bill worked hard on the watershed issue, having been one of ten farms that served as a pilot for the NYC Watershed Program. Bill took pride in everything that he did and was an outstanding member of the community. He enjoyed bowling, his best game a 267, and enjoyed golf. In addition to his parents, he was predeceased by his beloved wife of 56 years, Joan Traulsen Proudman, on May 20, 2014; and by his siblings, Edward Proudman, Elizabeth "Betty" Oliver, and Claudia Merwin.
Bill is survived by his loving children, Robert William (Beverly) Proudman, Sr., and Lori (John) Proudman-Knoebel; ten grandchildren; several great-grandchildren; sisters, Evelyn O'Rielly and Donna Petley; and many nieces and nephews.
Calling hours will be held on Friday December 8, from 2 to 4pm and 6 to 8pm at the A.J. Cunningham Funeral Home, 4898 State Route 81, Greenville. A funeral service will be held on Saturday December 9, at 11am at the funeral home, followed by burial in Manorkill Rural Cemetery. In lieu of flowers, donations can be made to either the Conesville Fire Department, the Conesville Rescue Squad, or to the Alzheimer's Association, Northeaster New York Chapter, 4 Pine West Plaza, Suite 405, Albany, NY 12205. Condolences can be posted at ajcunninghamfh.com.