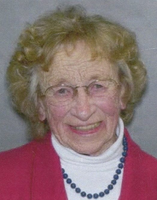 Julia "Julie" Sikule
MEDUSA - Julia "Julie" Sikule, 94, passed away peacefully surrounded by her loving family on November 23, 2017 at her daughter's home in Guilderland.
She was born on October 24, 1923 in Greenpoint, Brooklyn to the late Charles and Catherine (Judge) Walters.
Julie planned to be a career girl and worked at Socony (Mobil) in Manhattan until 1953 when she met and married her late husband, Michael (also a former Brooklynite). She then moved to his farm near the small upstate village of Medusa in the town of Rensselaerville. A city girl at heart (she always said you can take the girl out of the city, but you cannot take the city out of the girl), she grew to love the country and would not have wanted to be anywhere else in the world.
Family and community were both very important to Julie; if there was a need she was there. Among her many roles, she was a full-time homemaker while raising their four children, an assessor for the Town of Rensselaerville, a census taker, and a weekly columnist for the Greenville Local. She was a passionate volunteer for the Medusa Volunteer Fire Company, Cub Scouts, Meals on Wheels, Rensselaerville Senior Citizens, Helping Hands, and the Greenville Catholic Church. Julie co-founded the Ernest E. Bell Award, and she regularly visited the Catskill Nursing home up until her mid 80's, where she comforted patients that were often younger than herself. When she wasn't busy with her many activities, she could be found luncheoning with her friends, the Birthday Belles; watching the birds and feeding the chickadees from her hand; and playing games with her family.
Julie was a spirited, strong-willed, independent woman; she was not afraid to speak her mind. She was also caring, supportive, and generous. She had a tremendous appreciation for her family, friends, and loved ones, and will be greatly missed by all.
Julie is survived by her children, Carolyn, Michael (Maureen), Susan, and Kathryn; grandchildren, Kimberly, Robert (Colleen), Christine, and David; sister-in-law Peggy Walters; and many nieces and nephews.
In addition to her parents, she was predeceased by her husband, Michael; and her siblings, Charles Walters, Catherine Hudlow, John Walters, Francis Walters, and Robert Walters.
Relatives and friends are invited to call Sunday, December 3 from 3 to 5 p.m. at the A.J. Cunningham Funeral Home, 4898 State Route 81, Greenville. Funeral services will be Monday, December 4 at 10:00 a.m. from the funeral home, thence to St. John's Church, Greenville where her funeral mass will be celebrated at 11:00 a.m. Interment will be at the Medusa Cemetery.
The family would like to thank the staff of The Community Hospice, especially Dr. Sharma and nurse Alice Baker, for the kindness, care, and support shown to our mother. In lieu of flowers, memorial contributions may be made to Medusa Volunteer Fire Company or The Community Hospice Foundation.
Condolences may be posted at ajcunninghamfh.com.