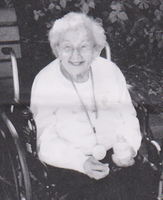 Harriet T. Gumport
GREENVILLE – Harriet T. Gumport, 97, longtime resident of Greenville, passed away on Tuesday, November 21, 2017 in Ellicott City, MD, where she moved three years ago to be near her son and his family. Born in the Town of Warren, Herkimer County, on November 12, 1920, she was daughter of the late Frank and Anna Minciel Katovitch. Harriet was a graduate of the former State Teachers College in Oneonta. She taught elementary grades in Newcomb Central School in the Adirondacks, Schoharie Central School, and retired from Greenville Central School. Harriet was the first woman elected to the Greenville Board of Education in 1965. She served for many years on the Greenville board and on the board of BOCES, and was president of those boards at different times. Harriet was a communicant of St. John the Baptist Church in Greenville, where she served as a Eucharistic Minister. She was a charter member and past president of the Rosary-Altar Society of St. John's.
Harriet is survived by her son, Jeffrey B. (Yvette) Gumport of Ellicott City, MD; three grandchildren, Lindsay Osborne, Kelsi and Geoffrey Gumport; many loving nieces and nephews. In addition to her parents, Harriet was predeceased by her husband, David L. Gumport; son and daughter-in-law, David R. and Karen Gumport. Harriet was the last survivor of her siblings, and was predeceased by three sisters, Stella Perry, Betty Hammond, and Evelyn Breen; three brothers, Edward, Walter, and Frank J. Katovitch.
Calling hours will be Friday, December 1st, from 3:30 to 7 p.m. at A.J. Cunningham Funeral Home, 4898 State Route 81, Greenville. Funeral Mass will be offered on Saturday, December 2nd, at 11 a.m. at St. John the Baptist Church, 4987 State Route 81, Greenville, followed by burial in Greenville Cemetery. Memorial donations to St. John the Baptist Church, P.O. Box 340, or to the Greenville Rescue Squad, P.O. Box 332, both in Greenville, NY 12083 will be appreciated. Condolences may be expressed at ajcunninghamfh.com.