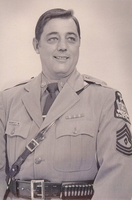 Victor L. "Vic" La Plante
LA PLANTE, VICTOR L., age 80, of Medusa, NY passed away suddenly on Thursday November 9, 2017. Mr. La Plante is survived by his wife of 60 years, Gail. She was always described by him as his "bride" and God's greatest gift to him; and if you saw one of them, you generally saw the other. They truly enjoyed the company of each other. He is also survived by three children, Jo Anne (Robert) Evans, James (Kim) La Plante, and John (Lisa) La Plante; and his siblings Everette E. (Cookie) La Plante, Jr., Yvonne Palasic, Phyllis Bienduga, Elizabeth (Gerry) Cullen, Theodore (Carey) La Plante, and Thomas La Plante. He is also survived by his very special grandchildren, Alison, Erin, Lillian and Danielle; his great-granddaughter, Theadora; as well as special nephew Mark La Plante, who made sure that all was well. He was fortunate to have many nieces and nephews. His brother Francis VanEps predeceased him.
Mr. La Plante was raised on the family farm in Medusa and entered the US Navy, where he served from 1955 to 1959, attaining the rank of Petty Officer, First Class. Because of the efforts of his good friend, Mike Miszko, his records were found allowing him life membership in the VFW. He entered the New York State Police in 1 962 and retired as a First Sergeant in 1 987. He was always extremely proud to be part of the tradition of the State Police, and at the time of his death was a lifetime member of the Association of Former New York State Troopers. He was elected as a Town Justice for the Town of Rensselaerville in 1987, a post he held for a period of 25 years. He was always very pleased that his friends and neighbors entrusted him with the judicial duties of the Township for those many years. He drove school bus for Greenville Central School and Headstart for five years until the disease of muscular dystrophy made that impractical. He was a champion of the children he drove to school, and enjoyed seeing their growth. Mr. La Plante was a life-long member and communicant of St. John's Church.
Calling hours will be on Thursday November 16, 2017 from 2 to 4pm and 6 to 8pm at the A.J. Cunningham Funeral Home, 4898 State Route 81,Greenville. A Mass of Christian Burial will be celebrated on Friday November 17th at 11am at St. John the Baptist Church, 4987 State Route 81, Greenville. Interment will follow at the Medusa Cemetery. In lieu of flowers, please send donations to either the Salvation Army, 20 S Ferry St, Albany, NY 12202 or to St. John the Baptist Church, P.O. Box 340, Greenville, NY 12083. Condolences can be posted at ajcunninghamfh.com.