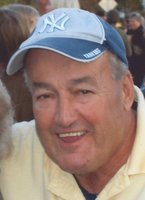 Kenneth G. "Woody" Wood, Sr.
PRESTON HOLLOW – Kenneth G. Wood, Sr. "Woody", passed away on Saturday November 4, 2017 at home, surrounded by his loving family. He was born in Catskill on May 19, 1939 to the late Leland and Pearl Rockefeller Wood. Woody worked as a truck driver for Van Auken Express, had served on the Board of Education at Middleburgh Central School, and had served as a councilman for the Town of Rensselaerville, and was a life member of the Tri-Village Volunteer Fire Company. Woody was an avid sportsman, enjoying hunting, fishing, and trapping. His true passion was antiques and he was an antique dealer for over 30 years. He was an avid Yankees fan and his love of baseball was what had him start up the Preston Hollow Little League. Another enjoyment he had was playing a Santa helper during Christmastime. He did this for the church, the park association, and the Cairo-Durham Elementary School. In addition to his parents, he is predeceased by his brother, Earl Dewitt.

Woody is survived by his beloved wife of 57 years, Lillian Garner Wood; his sons, Kenneth, Jr. (Corrine), Keith, Alvin (Valerie), and James (Tammy) Wood; his grandchildren, Scott, Cory, Riely, Teller, Alyssa, Brandon, and Noah; his great-granddaughter, Aaliyah; his brother, Theodore Wood (Lois); and many nieces and nephews.

Calling hours will be held on Wednesday November 8, 2017 from 4 to 7pm at the A.J. Cunningham Funeral Home, 4898 State Route 81, Greenville, with a fire company service at 6:45pm. A funeral service will be held on Thursday November 9th at 11am at the funeral home, followed by burial in Livingstonville Cemetery. In lieu of flowers, donations can be made to either the Preston Hollow Baptist Church, P.O. Box 597, Preston Hollow, NY 12469 or to the Tri-Village Volunteer Fire Company, Inc., P.O. Box 575, Preston Hollow, NY 12469. Condolences can be posted at ajcunninghamfh.com.