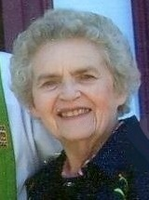 Helen M. Brown
GREENVILLE – Helen M. Brown nee Golden, 94 yrs of Westerlo, passed from this life on Tuesday, October 31, 2017 in the comfort of her home, as she wished. She was born in Brooklyn on April 26, 1923, the daughter of the late Vincent and Sabina (O'Reilly) Golden. Helen's father, who was a history buff, especially the Civil War, in which his father, who lived in the south, fought under Jeb Stewart, took Helen to many of the battlefields and they walked those hallowed grounds. These were the seeds that led Helen to pursue her Bachelor's Degree in history from St. Joseph's College. She was a graduate of Girls High School in Brooklyn, St. Joseph's College; her Master's obtained at St. John's, Columbia and Fordham Universities. After moving to Greenville, she pursued her PHD at SUNY Albany in evening classes after teaching all day.
As a teacher her career started at Boys High, Woodrow Wilson Vocational School in Brooklyn and Greenville Central High School. She taught 7th and 8th grade history for 20 years, and then moving up to guidance counselor for another 16 years.
Helen was instrumental in getting the National Bank of Coxsackie to open a branch in Greenville, where a bank had not previously existed. She was a motivator in growing the Greenville Library to what it is today, often investing her own money to purchase much needed books. She generously gave to her church, up to present day. Helen was a guiding force in shaping the Town of Westerlo, sitting on the town zoning board and aided in acquiring books needed by the library in Westerlo. She was responsible for getting the teachers union in Greenville. Most recently, she donated 39 acres of her land to the Greenville Boy Scout Troop. Helen accomplished all these things while caring for her invalid husband for 45 of the 51 years they were married.
In addition to her parents, Helen was predeceased by her husband, Lewis G. Brown, in 2000.
Helen is survived by her dearest cousin, Elizabeth "Betty" Eschback of Manchester, VT; cousins, Ronald and Richard Golden and their families. She is also survived by her devoted friends, Laura Palmer and Audrey Butler; and her Friday Night Buddy, Mila Degener, who cared for her lovingly for the past 6 years. Helen will be missed most deeply by her beloved cat, Mr. Meow and her Amazon parrot, Samuel T.
We would like to thank her daytime staff over the years, Betty, Sandy, Aileen, and Taylor. In addition, we thank Jimmy and Brenda Eufemia at Vince Anna's and the Buel's at Mountain View Brasserie for all their kindness and generosity.
A Mass of Christian Burial will be offered at St. John the Baptist Church, 4987 State Route 81, Greenville, on Monday November 6, at 11am. Friends and relatives may call on Sunday November 5th from 3 to 6pm at the A.J. Cunningham Funeral Home, 4898 State Route 81, Greenville. Those who wish to remember Helen in a special way may donate in her memory to the Greenville Public Library, P.O. Box 8, Greenville, NY 12083. Condolences can be posted at ajcunninghamfh.com.