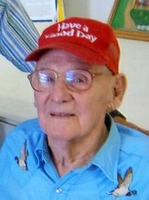 Ralph Dwight Hull
DURHAM – Ralph D. Hull, 98, passed away peacefully on Wednesday October 11, 2017 at home surrounded by his loving family.
Ralph Hull was the 13th child of 14 children born on December 3rd, 1918 to John and Henrietta Reed Hull. He is a descendent of one of the original seven settlers to the village of Durham, NY in Greene County. He was raised on a dairy farm at the Reed/Hull homestead on Route 145 in Durham, and graduated from Greenville High School in 1937.
Ralph married Virginia Joyce Poultney on May 1st, 1940 and they began their own farming (both parents were successful farmers) on a little farm in on Pucker Street - just outside of Potter Hollow in Albany County. After a few years, they bought a farm on the Oak Hill Durham Road and farmed there for many years. He continued helping on the farm after John and Charlene took it over in 1968.
Ralph was involved in several community organizations over the years. He was past treasurer and member of the Durham Presbyterian Church, a Durham School Board Member for 15 years, Past Master of the Potter Hollow Grange and a member of Hiawatha Grange totaling 77 years, a 4-H leader for 30+ years organizing the Durham Campions 4-H Club, a Durham Town Justice , a life member of the Oak-Hill Durham Fire Company, Past President of the Board of Directors of the Cooperative Extension Association of Greene County, Director and delegate for Eastern Artificial Breeder's, was listed in Who's Who in Farming, and an Honorary member of the Greenville FFA. Their farm was designated a Century Farm.
Ralph and Joyce were loving parents of three: Dwight, who had severe Cerebral Palsy and required and received much love and care, Janet, and John, who eventually took over the farm.
When Ralph was about 70 years old and semi-retired from the farm, he decided to try his hand at painting and has been painting mainly landscapes and old historical buildings for the past twenty eight years. Ralph was 98 years old when he passed. He also puttered with woodworking- something he has enjoyed doing for many years. He decided to carve ducks out of pieces of wood he had cut and had laying around. Several years ago Ralph saw a bee skep at Sturbridge Village and decided to learn how to make it. Ralph self-taught himself to make bee skeps and demonstrated making them at several places throughout the year. He made cedar hope chests for his children and each of his grandchildren. He also made thousands and thousands of molasses popcorn balls over the years during the holiday season.
Ralph wrote notes about his life memories and his daughter taped him for several years and transcribed the tapes. Ralph was very proud of his published book, "A Lifetime of Experiences and Memories."
Ralph was predeceased by his wife, Joyce and son, Dwight. He is survived by his daughter, Janet (Erik) Nelson of Rensselaerville, son John (Charlene) of Oak Hill; grandchildren Stephen (Marlena) Nelson of Leeds, Holly (Chris) Ullstrom of Preston Hollow, Brian (Alex) Taylor-Hull of Albany, Darcy Buisson Hull of France, Gloria (Justin) Hilgendorff of Round Top, Christine (Ryan) Behnke of Buffalo, and Carly (Warren) Agostinoni of Norton Hill; and son of the heart, Alain Bouillon. He was also survived by 11 great grandchildren; special nephew Bruce Hull of Ohio and niece Kathleen Hull of WA; and several other nieces and nephews.
Calling hours will be Sunday October 15, 2017 from 2 to 6pm at the A.J. Cunningham Funeral Home, 4898 State Route 81, Greenville, NY. Funeral services will be Monday October 16th at 1pm at the Oak-Hill Durham Methodist Church, 522 CR 22, Durham, NY. In lieu of flowers, memorial contributions may be made to either the Center for Disability Services, 314 South Manning Boulevard, Albany, NY 12208 or Oak Hill Preservation Association, P.O. Box 22, Oak Hill, NY 12460. Condolences can be posted at ajcunninghamfh.com.