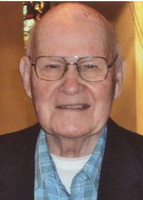 John F. "Jack" McCabe
EAST DURHAM – John F. "Jack" McCabe, 90, passed away peacefully on Sunday October 1, 2017. He was born on October 18, 1926 in Elmhurst, Queens, to the late James and Maria Haverty McCabe. After graduating high school, he joined the Navy during World War II. He was Honorably Discharged, and then went to Packer College to receive an Associates Degree in Business. Jack was a salesman for Singer Sewing Machines, then for Galey & Lord, then for Burlington Industries, and finally for Crompton, retiring in 1985. After retiring, he moved to East Durham, where he became a parishioner of Our Lady of Knock Shrine, a member of the Michael J. Quill Irish Cultural & Sports Centre and of the Durham Valley VFW. Jack loved his grandchildren and enjoyed spending time with them. He also enjoyed daily long walks and his Irish music. In addition to his parents, Jack is predeceased by his beloved wife, Anne M. O'Connell McCabe, on December 7, 2009; by his brothers Joseph McCabe and James McCabe; and by his sister, Catherine Tighe.
Jack is survived by his children, Anne Marie (Tom) McCabe, Mary Ellen McCabe, Kevin (Jane) McCabe, Jack McCabe, and Sue (Bill) Walsh; he was the loving pop to Brian, Caitlin, Joan, Kerry, Carly, Zoe, Liam, Molly, Jack, and Pearse; and survived by many nieces, nephews, and cousins. A special thank you to the Nurses and Aides at The Pines in Catskill.
Calling hours will be held on Wednesday October 4, 2017 from 2-4 and 7-9pm at the A.J. Cunningham Funeral Home, 4898 State Route 81, Greenville. A Funeral Mass will be held on Thursday October 5th at 11am at Our Lady of Knock Shrine, 2052 State Route 145, East Durham, followed by burial in Winston Cemetery. In lieu of flowers, donations can be made to Our Lady of Knock Shrine c/o Sacred Heart Church, 35 Church St. Cairo, NY 12413. Condolences can be posted at ajcunninghamfh.com.