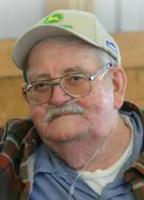 Roger E. Dunican
WESTERLO – Roger E. Dunican, 82, passed away on Wednesday May 17, 2017 at St. Peter's Hospital. He was born on August 22, 1934 at home in Selkirk to the late Walter and Grace Dunican. Roger attended Ravena schools until he was 14 years old, and then he became a farmer. He worked at Harold Magee Farm in Glenmont from age 14 until he was 76. He was also the caretaker of Holy Spirit Lutheran Cemetery in Glenmont for over 30 years. He loved farming and loved anything John Deere. He was known for always saying "A penny saved is a penny earned". In addition to his parents, Roger was predeceased by his wives, Betty Weber and Evelyn Slingerland; and all of his siblings.
Roger is survived by his children, Denise (Robert) Beck, Donna (Adrian) Clute, BetteAnn VanFonda, and Todd (Melissa) Dunican; his step-children, Bernice Hopkins, John McCauslin, Raymond McCauslin, Michael Tryon, and Barbie McDaniels; his fiancé, Wanda Lutz; 21 grand and step-grandchildren; 21 great-grand and step-great-grandchildren; and many nieces and nephews.
Calling hours will be held on Monday May 22, 2017 from 4 to 8pm at the A.J. Cunningham Funeral Home, 4898 State Route 81, Greenville. A graveside service will be held Tuesday, May 23rd, at 12pm at Holy Spirit Lutheran Cemetery in Glenmont. Condolences can be posted at ajcunninghamfh.com.