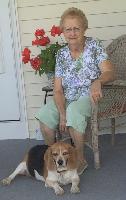 Phyllis K. Beechert
GREENVILLE – Phyllis K. Beechert, 90, passed away on Thursday, May 11, 2017 at Albany Medical Center after being stricken at home on Sunday. She was born on December 5, 1926 at home in Cooksburg to the late Roy D. and Dorothy Cook Kelsey. She was raised there and was a graduate of Greenville High School. Phyllis worked at the Pioneer Insurance Company as a keypunch operator. In 1980, she went to Nursing School and graduated as an LPN. She then worked as a private duty nurse. Phyllis was a member of Christ Episcopal Church since 1950, the Greenville Inter-Faith Council, a member of the Greenville Fire Company Ladies Auxiliary, a charter member of the Greenville Rescue Squad, volunteered at the Greenville Area Food Pantry, was a member of Community Partners, was a 2010 member of the Greene County Senior Citizens Advisory Board, and was a charter member of the Greenville Local History Group. In addition to her parents, Phyllis was predeceased by her husband, Edwin E. Beechert on May 15, 1977 and her sister, Virginia (Malcolm) Lloyd.
Phyllis is survived by her children, Kenneth G. (Barbara) Beechert and Sharon (James) Collins-Strong; her granddaughters, Alexandra "Alex" and Catherine "Cate" Collins; her step-grandchildren, Mary (Eric) Kunde, Katie (Kevin) Sill, Eric Bear (Kate Alessandrini); her step-great-grandchildren, Devin, Garret, Brooke, Audrey, Tucker, Abilene; her nephews, Lawrence and Martin Lloyd; and her niece, Brenda Wood.
As were her wishes, Phyllis has been privately cremated. Calling hours will be held on Thursday May 18th from 6 to 8pm at the A.J. Cunningham Funeral Home, 4898 State Route 81, Greenville. A memorial service will be held on Friday May 19th at 11am at Christ Episcopal Church, State Route 32, Greenville. In lieu of flowers, donations can be made to either Christ Episcopal Church, PO Box 278, or to Greenville Rescue Squad, PO Box 332, both in Greenville, NY 12083. Condolences can be posted at ajcunninghamfh.com.