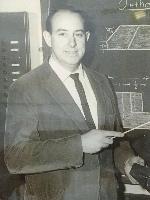 Joseph L. Rebeor
GREENVILLE – Joseph L. Rebeor, 86, passed away on Saturday April 22, 2017. He was the son of the late Leonard and Mary Rebeor of Fulton, NY. Mr. Rebeor was a veteran of the Korean War, serving as a flame tank commander with the 1st Tank Battalion, 1st Marine Division. He received an A.A.S. Degree in Electrical Technology from SUNY Canton in 1955 and a B.S. Degree in Education from SUNY Oswego in 1957. Mr. Rebeor was an Industrial Arts Teacher at the Greenville Jr. Sr. High School for 29 years, and also taught Adult Education Courses before retiring in 1986. Mr. Rebeor had served as Chairman of the Cub Scouts' planning committee for several years and had directed a summer camp in the Catskills. In addition to his parents, Mr. Rebeor is predeceased by his brothers, Eugene Rebeor of Fulton, NY and William Rebeor of Port St. Lucie, FL; and his sister, Patricia Grant of Hannibal, NY.
Mr. Rebeor is survived by his wife of 61 years, Irene Pfeifer Rebeor of Greenville; a daughter, Leslie Shove of Coxsackie; three sons, Chris (Theresa) Rebeor of Cambridge, VT, Mark (Paige) Rebeor of Coeymans Hollow, and David (Melody) Rebeor of Westerlo; 15 grandchildren; 2 great-grandchildren; two brothers, Raymond Rebeor of Fulton, NY and Robert Rebeor of Allentown, PA; and several nieces and nephews.
Calling hours will be held on Friday May 5, 2017 from 4 to 7pm at the A.J. Cunningham Funeral Home, 4898 State Route 81, Greenville, followed by a memorial service at 7pm. In lieu of flowers, donations can be made to Capital City Rescue Mission, 259 S. Pearl St., PO Box 1999, Albany, NY 12201. Condolences can be posted at ajcunninghamfh.com.