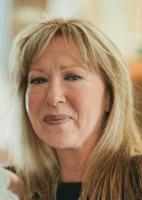 Margaret "Maggie" Byrnes
GREENVILLE - Margaret (Maggie) Byrnes, 54, passed through the gates of heaven on April 16, 2017. She was born on Sept 11, 1962 in New York, NY.
Margaret is survived by her husband, James Byrnes; daughters, Jennifer Minshell, and Julia Byrnes; sons-in-law, Nicholas Minshell and Jake Dominick; grandson, Brody Minshell; sister, Helen Buss; and many more extended family members and in laws, as well as best friends, Wayne Nelsen, Nancy Zask, Mary Koelmel, and many other dear friends she made in the community she loved. She is preceded by her beloved parents John and Mary Fanning.
Margaret was a dedicated mother, daughter, grandmother, wife, friend, community member and nurse. Helping others and spreading her "fairy dust" brought her the most joy in life. Loving, loyal, and dedicated to bringing happiness and positivity into any life she touched. Her smile, sense of humor, kind words, and heartfelt encouragement for those around her will be gravely missed.
Calling hours will be held on Thursday April 20, 2017 from 1 to 3pm & 5 to 8pm at the A.J. Cunningham Funeral Home, 4898 State Route 81, Greenville, NY 12083. A funeral service will be held on Friday April 21st at 11am at the funeral home, followed by burial in Greenville Cemetery. Condolences can be posted at ajcunninghamfh.com.