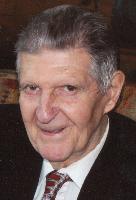 Robert F. Kennedy
FREEHOLD – Robert F. Kennedy, 81, passed away on Monday April 10, 2017 at Albany Medical Center. He was born on June 4, 1935 in the Bronx to the late Walter and Estelle Kennedy. Robert was an accountant for Catholic Charities in NYC. After moving to Freehold, he became a parishioner of St. John the Baptist Church in Greenville. In addition to his parents, Robert was predeceased by his wife, Christina Farrell Kennedy, in 2015.
Robert is survived by his daughters, Lorrie Hejnal (the late Ken) and Ellen Conley (Dennis); his grandchildren, Ryan, Corey, LeeAnn, Keith, Jennifer, and Robert; his great-grandchildren, Abigail, Samantha, Eric, Logan, Madison, Zachary, and Mia; and several cousins.
A Funeral Mass will be held on Monday April 17, 2017 at 10:30am at St. John the Baptist Church, 4987 State Route 81, Greenville, followed by burial in the Greenville Cemetery. In lieu of flowers, donations can be made to Catholic Charities, 66 William St., Catskill, NY 12414. Condolences can be posted at ajcunninghamfh.com.