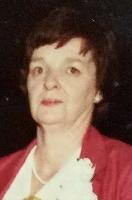 Joan Edna Cappelli
EAST DURHAM – Joan E. Cappelli, 84, passed away on Monday March 20, 2017 at Greene Meadows Nursing and Rehab Center in Catskill. Joan was born on September 3, 1932 in NYC to the late Frank and Katherine Mahoney Carrigan. She graduated high school in Nova Scotia, Canada before moving back to the Bronx to become a Teaching Assistant for the NYC Board of Education until her retirement. Joan was musically talented with both singing and piano playing. She sang in the Canadian Nationals and was an active member of the choir at St. Mary's Church and Our Lady of Knock Shrine in East Durham. She was an avid piano player, and would play the piano for student musicals. Joan enjoyed spending time with her family. In addition to her parents, she is predeceased by her beloved husband Angelo Cappelli; and her brothers, Frank and Thomas Carrigan.
Joan is survived by her children, Paul (Gabriell), Marc (Audrey), and Ronald (Tracy) Cappelli; her grandchildren, Leahanne (Jason) Beojekian, and Paul and Rebecca Cappelli; her siblings, Mary McCormick and Bernard Carrigan; and many nieces and nephews.
A Funeral Mass will be offered on Friday March 24th at 9am at Our Lady of Knock Shrine, 2052 State Route 145, East Durham, NY 12423, followed by burial in the Gate of Heaven Cemetery in Hawthorne, NY. In lieu of flowers, donations can be made to Columbia-Greene Humane Society, 111 Humane Society Rd., Hudson, NY 12534. Condolences can be posted at ajcunninghamfh.com.