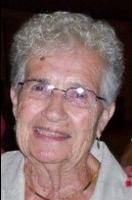 Peggy L. Bishop
WESTERLO – Peggy L. Bishop, 86, passed away on Wednesday March 15, 2017 in St. Peter's Hospice after a short illness. She was born on June 24, 1930 in Albany to the late Roy and Doris Bird Ross. She was a long time resident of Westerlo. Peggy was a kind, loving, and embracing person, who treasured her family and was very much loved by the community. She will be sorely missed. In addition to her parents, she was predeceased by her beloved husband, Thurman Bishop; her son Robert; her grandson Terry; and her brothers, Roy and Harold Ross.
Peggy is survived by her children, William (Kathy Kelsch), Ross (Lili Starna), and Bruce Bishop; her grandchildren, Michelle (Scott) Dibble, Charity (Carmine) Petti, Wendy Schwenk, and Jesse, Dylan, and Tuesday Bishop; her six great-grandchildren, her one great-great grandchild; and many nieces and nephews.
Calling hours will be held on Sunday March 19th from 2 to 4pm at the A.J. Cunningham Funeral Home, 4898 State Route 81, Greenville, will a memorial service to follow at 4pm. In lieu of flowers, donations can be made to Community Hospice, 310 S. Manning Blvd., Albany, NY 12208 or to the Westerlo Public Library, PO Box 267, Westerlo, NY 12193. Condolences can be posted at ajcunninghamfh.com.