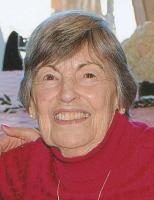 Angela M. Mudge
Angela Margaret Mudge, a lifelong resident of Ravena, was born on October 16, 1928. She entered into eternal life on March 11, 2017, at St. Peter's Hospital in Albany.
Angela was the daughter of the late Anthony and Helen Morrell (née Martino). She graduated from Cardinal McCloskey Memorial High School in Albany. On May 9, 1953, Angela married the love of her life, Owen S. Mudge, Sr. Angela worked as a medical secretary at the Coeymans Medical Clinic for many years while raising her family.
Angela is survived by her husband, Owen, and four children who could not imagine having a more devoted and loving mother: Patricia Britton (Ralph) of Ravena, Gloria Tesiero (John) of Amsterdam, Edward Mudge, Sr. (CherylAnn) of Coxsackie, and Owen Mudge, Jr. (Kimberly) of Pacifica, California. Seven grandchildren, each of whom will miss her dearly, survive Angela: Brian Britton, Michael Britton, John Tesiero, IV, Justine Coman, Edward Mudge, Jr., VeronicaAnn Tahan, and Sarah Mudge. Angela is also survived by her sister Virginia Morrow, her brother Theodore Morrell, and several nieces and nephews. Angela was predeceased by her brother Anthony Morrell.
Calling hours will be held at St. Patrick's Church, located at 21 Main Street in Ravena, from 9:00 a.m. to 11:00 a.m. on Friday, March 17, 2017, to be followed at 11:00 a.m. by a Mass of Christian Burial at the same location. Interment will follow at St. Patrick's Cemetery.
For those desiring to commemorate their remembrances of Angela, donations may be made in her name to St. Patrick's Church in Ravena, 21 Main St., Ravena, NY 12143. Condolences can be posted at ajcunninghamfh.com.